BTB Pedometer'athon

So, what's this all about?



Like all the walking events held around the world for The IBTA's 'Walk Around the World for Brain Tumours', our Pedometer-a-thon is about raising awareness of brain tumours and by joining us in our walk through August you can help make others aware of this devastating disease.

If you are interested in taking part in the BT Buddies 'pedometer-a-thon', which will run from the 1st to 31st August 2010, please follow the steps below:
Step 1: Purchase a pedometer (or dig out one you already have!) and put it on!

Step 2: Complete our Pedometer-a-thon registration form (near the top of the menu on the left)

Step 3: Throughout August you can let us know how far you have walked by using our step/km converter to get the distance in miles and then add that figure to our rolling total here.
Don't have a pedometer? Don't worry! You can still take part in our month of measuring your 'steps' by visiting www.mapmyrun.com and putting in your start and end points for any walks you do during August. Once you have calculated the distance you have walked  go over to our donation page and enter the distance in miles (to 2 decimal places). You must register and be logged in to donate your miles.

This event is about raising awarenss of brain tumours, so, everyone who signs up also has the choice of whether to receive 10 small (business card sized) leaflets directing people to this page to find out more about the walk and brain tumours. If you don't buy a pedometer from us, please This e-mail address is being protected from spambots. You need JavaScript enabled to view it to request some of these leaflets or you will be able to download them by the end of this week.
The total distance walked by everyone taking part in this event will be added to The IBTA's 'Walk Around the World for Brain Tumours' total.
Basic pedometers with www.btbuddies.org.uk on are available in our eBay store at a cost of £1.50 each. Thanks to eBay's charity 'arm', Missionfish, for every pedometer sold BT Buddies will receive £3.00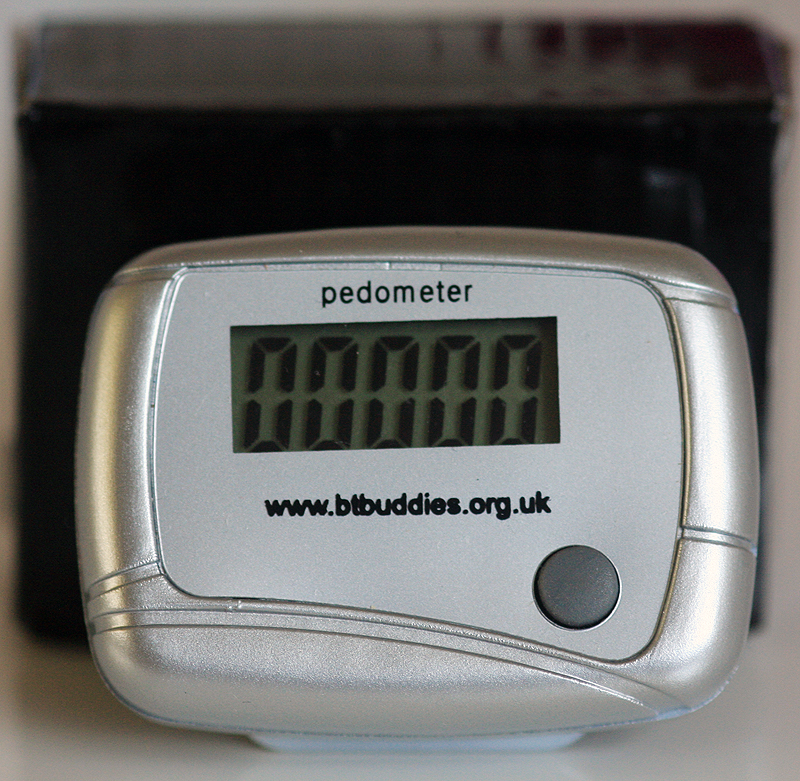 For anyone wishing to raise funds for bt buddies whilst taking part in our pedometer-a-thon, You can download sponsorship forms HERE
or Email This e-mail address is being protected from spambots. You need JavaScript enabled to view it This e-mail address is being protected from spambots. You need JavaScript enabled to view it if you would like us to post you some.
The Walk Around the World for Brain Tumours is a project launched by the International Brain Tumour Alliance (The IBTA). People are encouraged to undertake sponsored or unsponsored walks to raise awareness about brain tumours and to donate the mileage covered to the World Walk target of circling the earth five times at the Equator (125,000 miles or 200,000 kms). See www.theibta.org for details of their work.